Ordained Ministers & Certification Programs
The purpose of Christology and Ecclesiology is to provide Ordained Minister Programs and Certification Programs as a Distance Learning University similar to another Online Christian University. Our mission is to provide Spiritual Education to our graduates to become a Minister and to attain an Ordained Minister License for those who desire to become licensed as Ordained Ministers.
Christologist™ & Ecclesiologist™
Certified Programs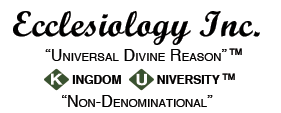 Mission Statement
"Ecclesiology Inc." is a Non-Denominational 501 (C) (3) nonprofit spiritual organization composed of an "ecclesia" (gathering) of people who are Logos philosophy based on the principle of a "Universal Divine Reason" for the purpose of understanding "harmony", inherent within nature, but transcending all imperfections as a divine universal ruling force, which governs and is also revealed throughout the cosmos to all of humankind. "Universal Divine Reason" is an eternal unchanging truth from the time of creation that is a unifying and liberating force, which reconciles the human with the Divine. The word "Logos" can refer to a "Rational Divine Intelligence" expressed by words, which during "scientific discourse" have been referred to as the "Mind of God" and the principles for human law and morality including the self regulated "Natural Laws witnessed in all of Nature."
Christian beliefs point to the "Holy Scriptures" in the book of "John Chapter 1 verse 1 as the "Word" (Logos) of God" becoming "flesh" as the bridge between the human and the Divine.
The "Scriptural" core basis why we believe not only must we be Spiritually, Mentally and Morally clean, but we must be Physically clean on the inside as well as on the outside, which includes our nutrition and drinking habits and our bathing and clothing habits.
In Colossians Chapter 3 verse 23 states: "Whatever you do, put your whole heart and soul into it" and in the book of 2 Corinthians clearly states that we must not pollute any part of one's body.
"Let Us Purify Ourselves from Everything that Pollutes either Body or Spirit"
(2 Corinthians 7:1)
Accreditation
Our Universities and Colleges are nationally and internationally accredited, nontraditional schools, granting post-secondary holistic degrees in natural health and healing, holistic nutrition, non-secular degrees, Naturorthopathic, & HygioPhysician® degrees, as well as Certified Programs in Natural Health and Holistic Nutrition including non-secular programs. The purpose of these degree and certified programs is to education and develop help to develop Natural Health and Healing, Holistic Nutrition and Non-Secular practitioners.
We are nationally classified and authorized to academically conduct business as universities and colleges. In addition, we are accredited by "The H.D.A." (Hygienic Doctors Association) and the "W.W.A.C." (The World-Wide Accrediting Commission), which ensures that our students will be well-qualified at the post-secondary level after completing our educational programs and that the quality and standards of our course instruction and methods are maintained at the highest, post-secondary academic level: "in keeping with our Natural Health and Holistic Nutrition Hygienic philosophy" including our Non-Secular Programs and their philosophy.
Return to Top | HOME | CONTACT | ENROLL