Holistic Christian Degrees Offered
Pastoral Counseling Degree Programs
Theology Degree Programs
Biblical Studies Degree Programs
Divinity Degree Programs
Holistic Christian Health & Healing Degree Programs
Accreditation
Our Universities and Colleges are nationally and internationally accredited, nontraditional schools, granting post-secondary holistic degrees in natural health and healing, holistic nutrition, non-secular degrees, Naturorthopathic, & HygioPhysician® degrees, as well as Certified Programs in Natural Health and Holistic Nutrition including non-secular programs. The purpose of these degree and certified programs is to education and develop help to develop Natural Health and Healing, Holistic Nutrition and Non-Secular practitioners.
We are nationally classified and authorized to academically conduct business as universities and colleges. In addition, we are accredited by "The H.D.A." (Hygienic Doctors Association) and the "W.W.A.C." (The World-Wide Accrediting Commission), which ensures that our students will be well-qualified at the post-secondary level after completing our educational programs and that the quality and standards of our course instruction and methods are maintained at the highest, post-secondary academic level: "in keeping with our Natural Health and Holistic Nutrition Hygienic philosophy" including our Non-Secular Programs and their philosophy.
Purpose of Kingdom University™
The purpose of Kingdom University™ is to offer non-secular programs that will favorably compare to other Christian Colleges & Christian Universities offering Christian Degrees such as a degree in Biblical Studies, namely, a Doctor of Philosophy in Biblical Studies or Holistic Christian Degrees such as a Doctor of Philosophy in Holistic Christian Health & Christian Healing. For the Spiritually inclined, we offer a Spiritual Degree such as a Doctor of Philosophy in Spiritual Counseling. In relation to Biblical Theology, as a Theology School and University, we offer a Theology Degree such as a Doctor of Theology or similar to a Divinity School, we offer a Divinity Degree in either a Master of Divinity or a Doctor of Divinity. Our Bible Counseling Degree courses favorably compares to other Bible Colleges or a College of Biblical studies. Similar to another Bible University, Kingdom Christian University® is proud to offer students such a diversified non-secular based Christian degree programs.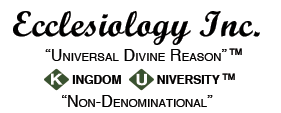 Return to Top | HOME | CONTACT | ENROLL